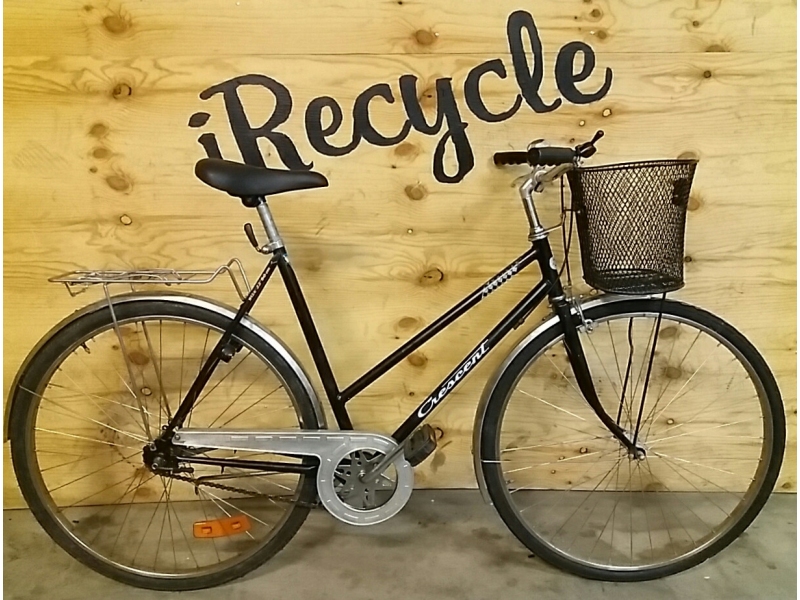  
Crescent, citybike, 28", 3 växlar, korg,
- Alltid full garanti
- Säljs helt reparerade
- *Cyklarna på hemsidan är endast ett galleri som visar ett ungefärligt utbud av vad vi säljer

Leveranspolicy (redigera den med modulen Customer reassurance)

Full warranty - iRecycle repairs all bikes fully. Should anything happen to your bike afterwards are you welcome by to get help.

Returpolicy (redigera den med modulen Customer reassurance)
Kvalitet
iRecycle säljer begagnade cyklar i mekaniskt toppskick. Vi vill erbjuda bekymmersfritt cyklande. Navet mitt i bakhjulet plockar vi isär i sina bestånds delar och slipar upp dem. Sen sätter vi ihop navet igen med nytt gult fett, så växlar och bromsar går mjukt.
Galleri
Vi visar bara exempel av våra begagnade cyklar på hemsidan för att de säljer slut så fort. Tar vi bilder på 10 st kommer flera vara sålda innan vi hunnit publicera dem och framförallt innan kunden hunnit komma till oss för den cykeln.
Rätt cykel
Är skillnaden på alla cykelmodeller bara utseendet? De har olika egenskaper: lätt rull, bekväm eller stöttålig? Se vilken modell som passar dig bäst.
CykelGuide
Köp cykel
Kom till vår butik för att hitta din cykel. Vi har ett stort utbud och många olika typer av cyklar – något för alla. Känn, kläm och testcykla så du känner dig säker på ditt köp. Välkommen förbi iRecycle på Döbelnsgatan 52, portkod 5252 (nära Odenplan T).
Kontakta oss